Three Dance Programs…Designed to entertain, engage, and inform!
January 18, 2013
Blog Categories: News
STEPPES: Crossover
STEPPES: Crossover is a new evening-length performance that takes audiences on an exciting journey from folk to contemporary dance. Featuring over 35 dancers and musicians, the program underscores America's unique pluralistic heritage and multicultural inspirations. Featuring a new work by Mark Morris, experience the bold acrobatics of Ukrainian dance and ingenious artistry of the dancers set in motion by a live, virtuosic orchestra from Kirovohrad, Ukraine.
"…appealing, energetic, poignant and powerful!"
Nancy G. Heller
Philadelphia Inquirer
Yatran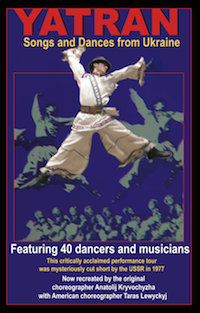 This unique program is based on the work of the Yatran Ukrainian Dance Company of Kirovohrad, Ukraine that toured in the U.S. in 1977. Together, original choreographer Anatolij Kryvochyzha (now age 87) and American choreographer Taras Lewyckyj theatrically recreated the highly acclaimed Yatran program with the Zoriany Ukrainian Dance Company in Kirovohrad, Ukraine. The result is an incredibly lively and exciting show featuring over 40 dancers and musicians.
"… the Ukrainian Dance Company Yatran arrived for a far, far too brief two-night engagement as part of the Radio City Music Hall Pop Festival. It should be brought back as soon as possible. Two nights is by no means long enough to get even acquainted. [Kryvochyzha] knows how to point up a folk dance, his program moves exceptionally smoothly, and he understands the need to vary the pace and texture of the various numbers".
Clive Barnes
New York Times
September 1977
STEPPES: A Journey
This program combines the highest level of technique and presentation with the national character of Ukraine to create a spellbinding show of art and energy. The resulting style is bold and powerful, clearly native to Ukrainian dance, yet classical enough to be appreciated by all. Through dance, Voloshky portrays the past and present culture of the Ukrainian people. Featuring works by many world-renowned choreographers, audiences are exposed to traditional costumes, styles, and music representing various regions of Ukraine.
"The Voloshky dancers…have a genuine feeling for the nobility and friskiness of the dances. The Hopak, the most famous of the Ukrainian dances, goes way beyond friskiness into high virtuosity."
The Philadelphia Inquirer
"In contrast with the Hopak was the courtly Kokhanochka. Its lilting steps and formal patterns are a lesson in the value of simplicity. Every would-be choreographer should take a look at this model of 'less is more'."
Nancy Goldner – Dance Critic
Author "Balanchine Variations"